Unlike perfumers, chefs spend most of their time thinking about flavour – not smell – combinations. Smell happens in the kitchen, and flavour happens at the table. But flavour is actually inseparable from scent as we found when we talked to chefs from Olivier Creed's favourite Parisian restaurants about their relationship with scent and ingredients. Much like The House of Creed, they value the synergy between the different senses and share the same passion for sourcing the finest ingredients that will leave a lasting impression.
"80 per cent of what we taste is derived not from of what's happening in our mouths but from what's going on in our noses."
To test this, pinch your nostrils together the next time you nibble on something and you'll find that no matter how sweet the strawberry, or how strong the roasted garlic, the taste sensation is greatly diminished once smell has been removed from the equation.
How Many Flavours Can We Really Taste?
Thomas Finger, a professor at the University of Colorado-Denver Medical School, says that there is no question that the sensation of flavour is actually a combination of taste and smell. As you chew food, you force air through your nasal passages, he says, and the smell of the food gets carried along for the ride. This greatly enhances the sense of taste, which would otherwise be limited to five different flavours on the tongue – salty, sweet, bitter, sour and umami. Chewing our food is only one of the ways in which we experience the sensation of smell; the other is known as orthonasal olfaction and occurs when we actively sniff something. Our sense of smell, therefore, plays heavily into the complexity of our experience with food, far more than one would typically imagine.
All Five Of Our Senses Impact How We Enjoy Our Food
Presentation plays a huge part in our enjoyment of food, and fine dining in particular. One study showed that when people were presented with a plate of food arranged to look like a painting by Kandinsky, the diners preferred the look of the Kandinsky dish before tucking in. They also said they would be willing to pay more for it, and then rated it as tastier than the other two dishes – even though the elements were the same.

Acclaimed British chef and 'molecular gastronomy' pioneer Heston Blumenthal, in fact, argues that the experience of taste is influenced by every single sense, including sound. His culinary creations include The Sound of the Sea, which pairs a delicious and complex oyster dish with a recording of ambient noises taken from the seashore to heighten the favour of the dish. He also once carried out a test on a roomful of participants who were given two identical servings of his famous bacon-and-egg ice cream, each dish accompanied by sounds of either sizzling bacon or clucking chickens. The former was conclusively judged by participants to have stronger bacon flavours.
How Flavour And Scent Collide
For many, perfume, food and art all have a place on the same creative canvas – Olivier Creed himself uses world-renowned culinary ingredients including vanilla, cloves and lemon in his scents. While his first love was painting, which he still enjoys to this day. Olivier Creed takes huge pride in sourcing the best ingredients from around the globe to use in each House fragrance, encasing each fragrance in the finest glass bottles – the result being not just an olfactive experience, but a complete artisan sense delight. All of this, is, perhaps, a roundabout way of saying that if you want to enjoy a meal that ticks all of the boxes when it comes to taste, smell, art, ambiance – the whole package – then you should ask a perfumer. So we did. Here are Olivier's three favourite restaurants in Paris – we recommend you keep them in your back pocket for your next visit of this beloved European city (and be sure to book ahead).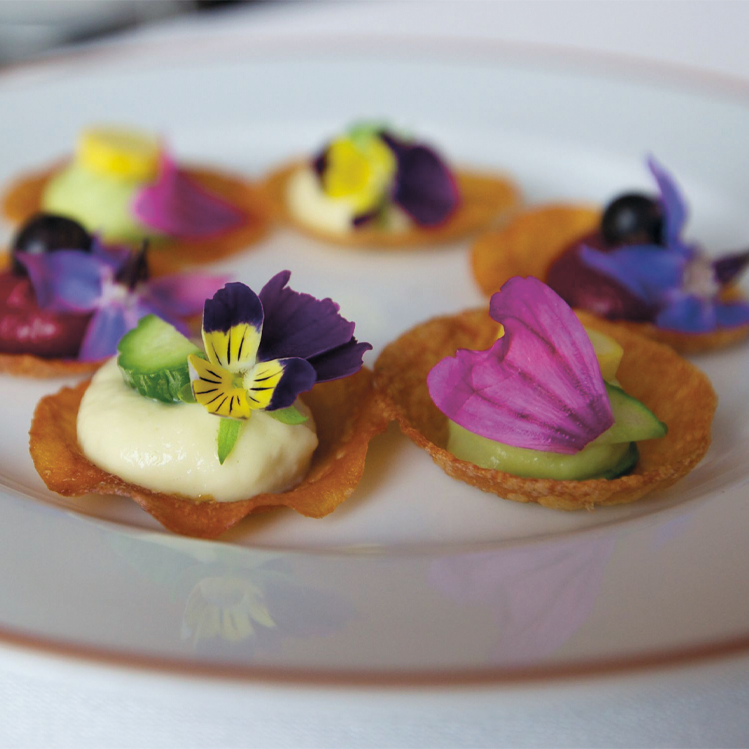 Adored For: It's dedication to Mother Nature's bounties. Alain Passard's three-Michelin-starred menu is an ode to earthly delights.
Arpège

Where to find it: 84 Rue de Varemme, 75507 Paris
'The menu here is very vegetable-oriented and extremely delicious,' says Olivier, 'and the service is outstanding.' Monsieur Creed is certainly not the first to fall for the botanical wizardry of Alain Passard and his three-Michelin-starred restaurant near Les Invalides. The legendary French chef states quite clearly on his website that he wants to 'elevate the humble vegetable to a grand cru'. And he isn't joking. A world-famous 'rôtisseur' of meats, Passard had an epiphany in the early 2000s when he realised that he had never given the produce in his garden the respect it deserved. Today, the fruits of his team's green-fingered endeavours take centre stage at Arpège and have resulted in such mouthwatering dishes as Passard's vegetable tartare, which swaps beef for beetroot. Meat still has a part to play, however, and it is the chef 's fusion of his passions old and new that perhaps make his creations so utterly unforgettable.

Unsurprisingly, the seasons have a key part to play in the menu. 'I don't cook the same way in summer with an aubergine as I do with a swede in winter,' Passard explains, as the accolades keep rolling in. According to the World's 50 Best Restaurants list, Arpège is the finest place to eat in the whole of France. So smitten is Passard with Mother Nature's treats that he has a dream that others will follow in his footsteps and plant their very own vegetable gardens. 'There is a lot of creativity in the cuisine from the garden,' he insists.

Discover More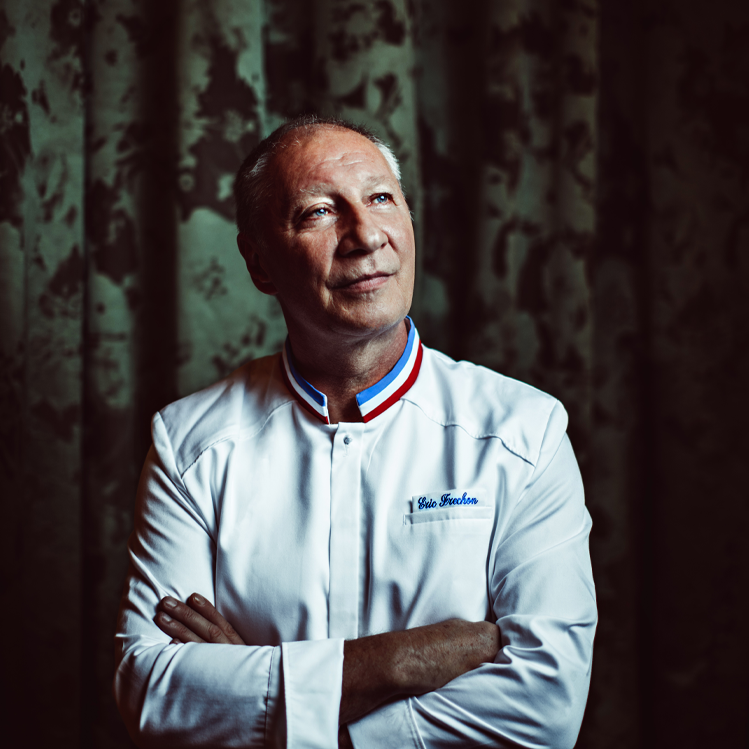 Adored For: It's world-class dining at a lively, two-storey brasserie de luxe in one of Paris' chicest neighbourhoods.
114 Faubourg

Where to find it: 114 Rue du Faubourg Saint-Honoré, 75008 Paris
Chef Éric Fréchon (pictured opposite) has 277,000 followers on Instagram, and most days he will post an image of a sumptuous dish or a vibrant kitchen in the throes of making it. His audience giddily responds with heart signs, applauding hands and emoticons of faces with drooling mouths: all around the world people have become enchanted by this four-Michelin-starred chef and his sorcerer-like way with food.

'Fréchon is, quite simply, the best chef out there,' says Olivier, who singled out 114 Faubourg – one of two restaurants overseen by Fréchon at the iconic hotel Le Bristol – as one of his Parisian favourites. In truth, it is Fréchon's highly exclusive Epicure restaurant, next to 114 Faubourg, where you might seek out a once-in-a-lifetime, 'dinner-as-theatre' meal (costing a princely 1,080 euros for a seven-course gastronomic treat for two), but there is something equally appealing about 114 Faubourg, a stylish brasserie de luxe that is a little gentler on the wallet and, some say, no less a treat for the taste buds. Smart yet relaxed, it is here that guests peer expectantly into a bustling open kitchen and indulge in such delights as Fréchon's sumptuous king crab and hand-chopped steak tartare.

The celebrated chef has overseen 114 Faubourg since it opened in 2009, and his love for seasonal and local ingredients ensures a feast for the senses. Bread has become a recent passion; after meeting master baker Roland Feuillas who grinds the nest wheat to create what he terms 'living bread', Fréchon followed suit and now makes his own fresh flour in a working mill beneath Le Bristol.

Discover More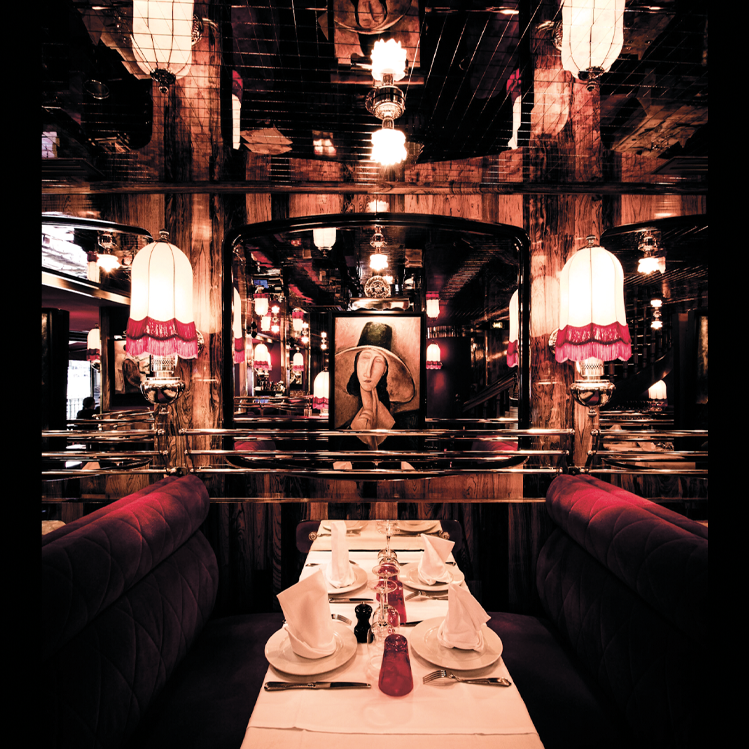 Adored for: It's classic Parisian ambiance – an institution that has been serving artists, thinkers and politicians for more than 100 years.
Rotonde

Where to find it: 105 Boulevard du Montparnasse, 75006 Paris
'La Rotonde is not a luxury establishment', according to an article in Vanity Fair on Emmanuel Macron's decision to celebrate his victory in the first round of the 2017 presidential election there. It may have a point. By night as bright as a Charles de Gaulle runway, and by day a slightly noisy spot to people-watch at the intersection of boulevards Raspail and Montparnasse, there is little at face value to suggest why La Rotonde holds such a special place in the hearts of Parisians. For Olivier, part of the appeal is that this is the place to find 'the best turbot in Paris' – but there's much more to it than that.

A riot of crimson furnishings, hanging lamps and polished brass, La Rotonde's alluring air of conviviality has been drawing a crowd since opening in 1911, its tables having once been occupied by everyone from painters such as Modigliani and Picasso to author F Scott Fitzgerald and composer George Gershwin. Starving artists would sometimes pay with a drawing.

A suspected arson attack in early 2020 may have rattled the brasserie's charismatic long-time managers Serge and Gérard Tafanel, two brothers from the Auvergne, but La Rotonde's spirit is undimmable. The restaurant continues to welcome diners looking for an authentic slice of Parisian culinary history from 7.30am until the small hours. They come for fresh oysters from Arcachon, Bourgogne snails in garlic butter, and lamb from the Lozère. And, of course, the best turbot in the city.

Discover More
This article is an extract from the Second Edition Creed Book. If you would like to get your hands on future copies, please sign up to our newsletter via the link in the footer below.